Conditions, membership and awards
Duration of the packages is 9:00 am to 4:30 pm.
Cost of packages includes planning, admission to various activities, midday meal, guide's commentary and taxes. Transportation not included.
Cost is based on 35 or more persons participating, and includes 2 free (organizer and bus driver).
Tours can be made with groups of 25 to 34 persons at pro rata cost.
Deposit of $250 required at time of reservation to confirm booking. Final payment for the visit will be requested at the end of the tour.
Services touristiques Sylvie Gagnon is not responsible for injuries and/or property suffered during the tour or any inconvenience occasioned by any stakeholder.
Customized packages also available all year.
Prices subject to change without notice.
Member:
Awards
Lauréat régional Les Grands Prix du Tourisme Québécois 2002, 2007 et 2012
Tourist services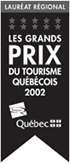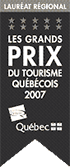 AQIP Association québécoise des interprètes du patrimoine
Prix du mérite en interprétation du patrimoine - volet communautaire